The School Ode
1. Up Santaclausians! Stand up to honour,
Those who have gilded the School with their fame;
Our Alma Mater - a blessing upon her!
Bids us remember the strength of their name.
Others have laboured and we share their glory,
Ours to do exploits and add to their gain,
Those who come after will take up our story,
May it be worthy of singing again.
CHORUS
Play up, play up Santaclausians!
Play up and play the game !
Give nothing but your best
And never think of rest,
Play up for the School's great name !
2. Nicholas, the Saintly Bishop our Patron,
Prays that his sons may be good men and true,
Hamlyn, our Founder, rests all his hopes on
You , and the big things that you want to do
Gird up your loins, let the watchword be Forward; Give of your best and the School, you will see,
If you will pray hard, and work hard and play hard, Either "primus" or "cum primis" will be.
Note on the School Ode
The original 'Ode' has six stanzas of. verses and a chorus, according praise and honour to St. Nicholas as well as Bishop Hamlyn, the Founder, Phillip Quaque, the first African to take Holy Orders in the. Anglican Church in England after the Reformation and Clement Henry Elliott, "the First Fruit of Orders", the first Old Boy of the School to fulfil the hopes of the Founder, by becoming a Priest of the Church, after whom the three original School Houses are named.
Apart from extolling the glories of the School, the Ode , with its theme on honesty and service is designed to re-edify the hopes and buoy up the spirits of all Santaclausians (past and present), inspire them to have a vision of what is expected of them and also to enable them to do their best in whatever sphere of labour or activity they may be engaged after they had left the School. In other words, the ode' exhorts all Santaclausians to lead a useful and purposeful life, always dedicating themselves to honour, service and duty.
However, under present circumstances and in light of rapid developments at the school which have necessitated the creation of five other School Houses named after equally great and noble spirits closely associated with the school, it has been found expedient on all occasions, to sing only the first two parts of the Ode and the Chorus as above to good effect.
---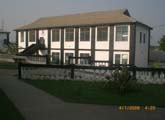 Hamlyn House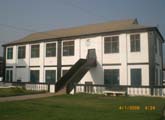 Elliot House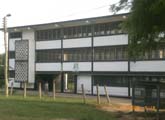 Quaque House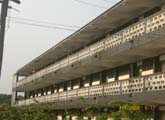 Ebiradze House