Profile - Santaclausians on the Move
Note: Once in a while or roughly every month a Santaclausian is profiled on this page. You can send the Webmaster an email with suggestions as to who should be profiled next.

See Past Profiles
---
George Brigars Williams
Year Group: 1946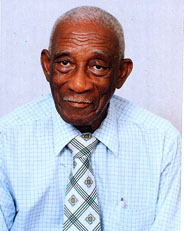 Mr. George Williams is one of the finest great actors in Ghana and has featured prominently in Nollywood for many years.
Born 8th January 1929 to Nora Awoonor Williams and Francis Awoonor Williams, Mr. Williams' career spans many decades a distinguished and recognizable actor in Ghana.
"Uncle George" as he is famously called by many has acted in many films and roles. He recently stared in a hit movie called "My Sisters Honor", which he played a role as Angel's father. One of his most memorable TV series he acted was the "Ultimate Paradise" which is still one of Ghana's most loved shows. His sincere gratitude to Mr. Hammond Mensah and HM Films Group for giving him the opportunity to act in many of these films.
Uncle George is a product of Adisadel College. He is a member of the class of 1946 which included the late Justice Sarpong, late Justice Hayfron Benjamin, late Justice Coussey and others are also his classmate. Uncle George has very fond memories of the great school on the hill "Adisadel College". A product of Hamlyn House, Uncle George was a great sportsman a high jumper and talked about the mighty Adisadel spirit. He said the school prepared him for life and enjoyed the solid academic foundation which has helped him especially class like Latin, Greek and Classics especially the entertainment industry. We are very proud of "Uncle George"; he is the few surviving members of his class. As we prepare for our centenary, Uncle George reflects on some of the early years of our great school and the founding fathers.
He wishes Adisadel College the very best.
Long Live Adisadel College, others have labored and we share the glory!
Below are some of the movies George Williams has featured in over the years:
LAST HOPE

GENESIS CHAPTER X

BLACK SUNDAY

DIRTY DEAL

FRIDAY AT 4:30

JUSTICE

ULTIMATE PARADISE

THE YOUNG AND THE OLD

BLOODY MARY

MY SISTERS HONOR
Education
| | |
| --- | --- |
| Institution | Period |
| Adisadel College | 1941 - 1945 |
| Nelson College | 1948 - 1950 |
| Bacham & Tooting College of Commerce | 1950 - 1952 |
Appointments
| | | |
| --- | --- | --- |
| Position | Company | Period |
| Announcer | BBC | 1953 - 1955 |
| Producer | Arts Council | 1956 - 1957 |
| Presentation Manager | Sierra Leone Broadcasting Service | 1957 - 1962 |
| Manager | Liberian Advertising Service | 1962 - 1965 |
| Managing Director | Sierra Leone Advertising Services | 1965 - 1968 |
| Ag. Commercial Manager | BBC | 1968 - 1973 |
| Director | Brain Munro GH .Ltd | 1974 - 1978 |
| Free Lance Broadcaster | | 1979 - 1989 |
| Producer and Actor | | 1979 - 1989 |
| Media Consultant | | 1990 - 1997 |
| Actor | | 1997 - Present |
---